We distribute up to 1100 servings of hot vegetarian food from more than 10 distribution points every day in Kyiv. The capital of Ukraine is the most attractive city for every resident of our country. Therefore one of the largest number of people who badly need our help are currently in Kyiv.
There are three ways you can also take part in our mission:
by becoming a volunteer
donating any amount of money to buy groceries
pay the delivery of our hot meals to our distribution points
Please contact us : info@foodforlife.org.ua
Read the reports below or view the "Їжа Життя Київ" channel on Telegram.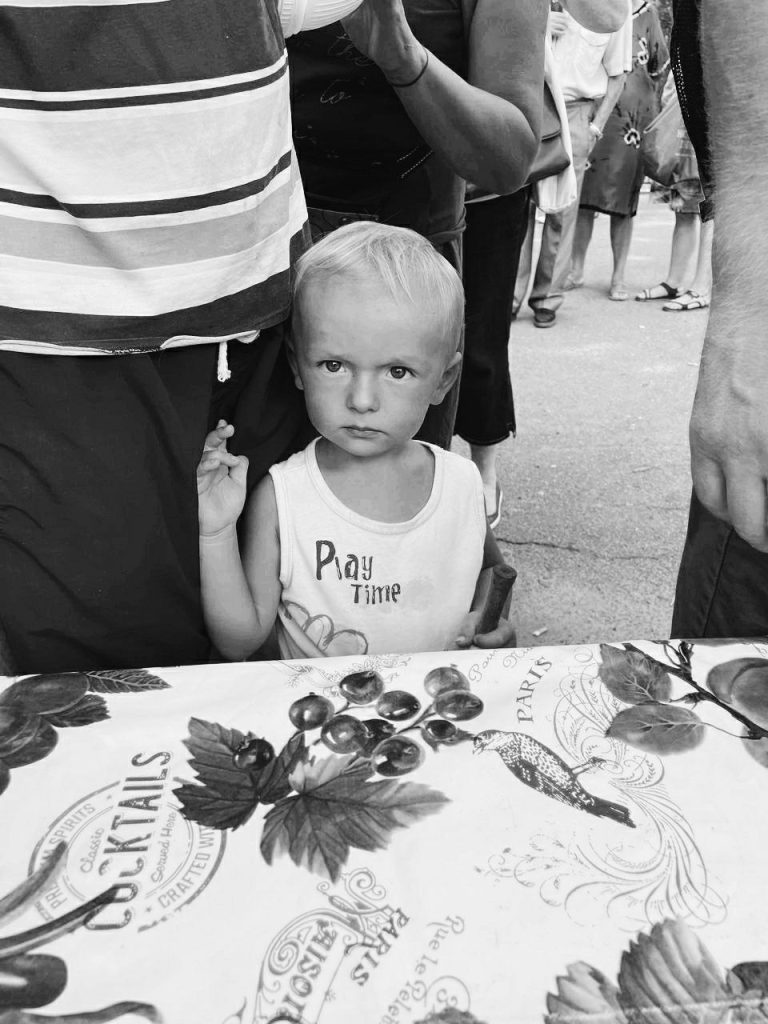 21-23.06.2023
18 volunteers
1058 servings of hot food
1180 loaves and cookies
19-20.06.2023
19 volunteers
638 servings of hot food
1070 loaves, buns and cookies
15-17.06.2023
17 volunteers
845 servings of hot food
700 loaves and cookies
9-13.06.2023
19 volunteers
1310 servings of hot food
1860 loaves, buns and cookies
29-30.05.2023
21 volunteers
1038 servings of hot food
811 buns and cookies
26-27.05.2023
21 volunteers
770 servings of hot food
860 loaves and cookies
24-25.05.2023
16 volunteers
660 servings of hot food
360 loaves of bread
22-23.05.2023
20 volunteers
783 servings of hot food
360 loaves of rolls and cookies
19-20.05.2023
20 volunteers
783 servings of hot food
360 loaves of bread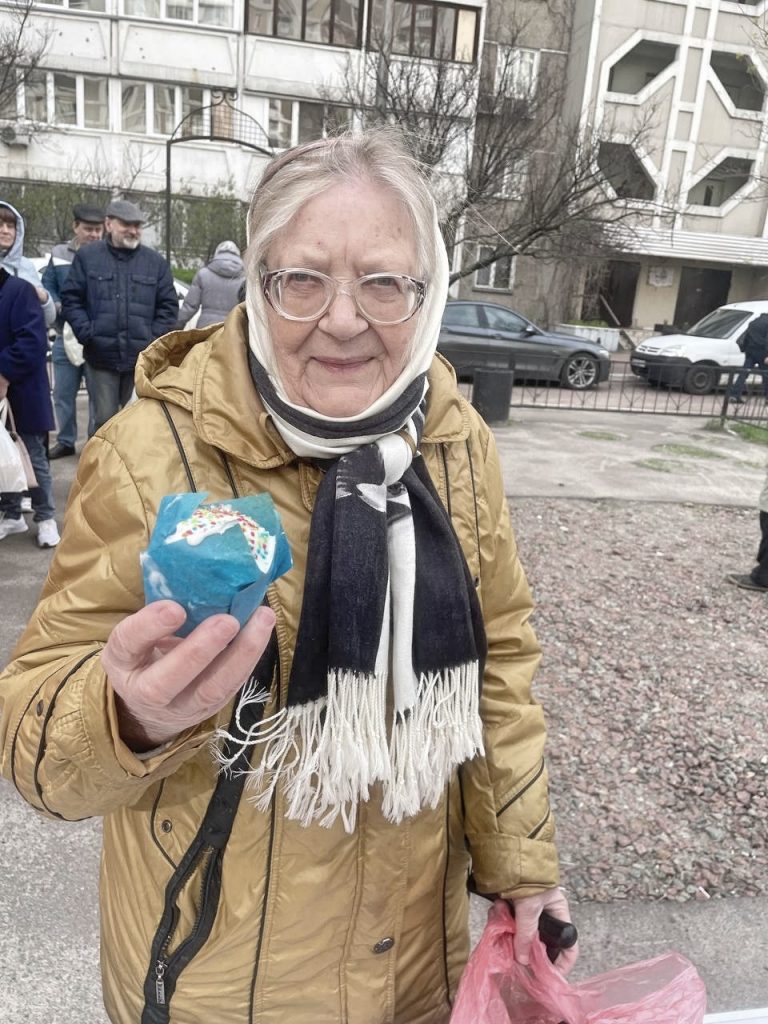 17-18.05.2023
16 volunteers
590 servings of hot food
15-16.05.2023
20 volunteers
1085 servings of hot food
1360 loaves, buns and cookies
12-13.05.2023
21 volunteers
778 servings of hot food
760 loaves and cookies
10-11.05.2023
16 volunteers
590 servings of hot food
720 loaves of bread
08-09.05.2023
16 volunteers
685 servings of hot food
720 loaves of bread
05-06.05.2023
21 volunteers
790 servings of hot food
1360 rolls and cookies
03-04.05.2023
16 volunteers
630 servings of hot food
360 loaves of bread
01-02.05.2023
22 volunteers
1070 servings of hot food
1,580 loaves and cookies
28-29.04.2023
22 volunteers
790 servings of hot food
860 loaves and cookies
26-27.04.2023
14 волонтерів
620 порцій гарячої їжі
720 хлібців та печива
24.04.2023
22 volunteers
755 servings of hot food
1180 loaves and cookies
21-22.04.2023
20 volunteers
705 servings of hot food
800 loaves and cookies
19-20.04.2023
15 volunteers
565 servings of hot food
600 breads, breads and cookies
17-18.04.2023
20 volunteers
920 servings of hot food
1360 pasoks, loaves and cookies
14.04.2023
15 volunteers
335 servings of hot food
360 loaves of bread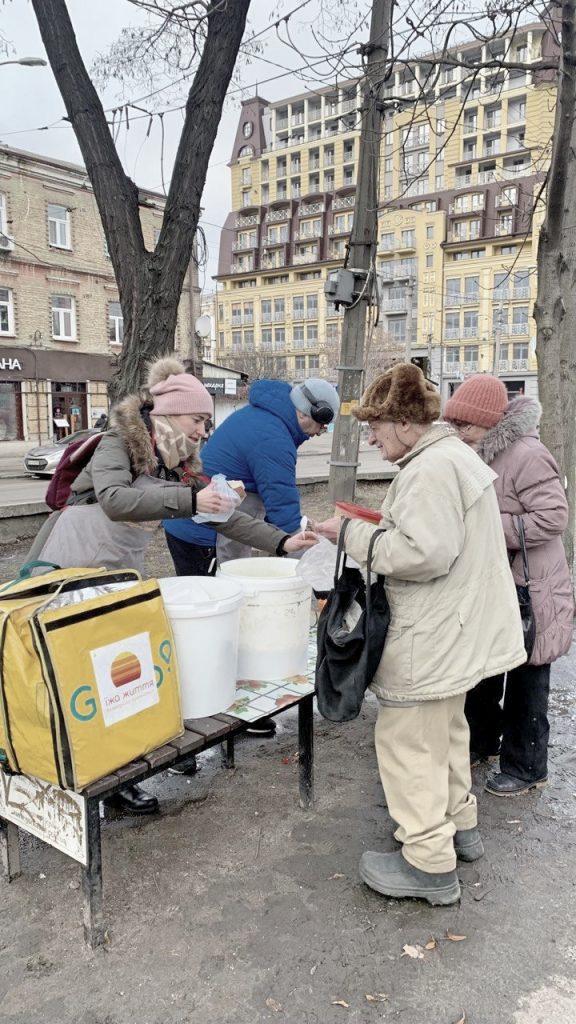 12-13.04.2023
16 volunteers
670 servings of hot food
720 loaves of bread
10-11.04.2023
16 volunteers
670 servings of hot food
720 loaves of bread
10-11.04.2023
22 volunteers
1115 servings of hot food
1270 loaves and cookies
07-08.04.2023
22 volunteers
780 servings of hot food
1210 loaves, buns and cookies
05-06.04.2023
16 volunteers
670 servings of hot food
720 loaves of bread
01-04.04.2023
23 volunteers
1170 servings of hot food
1220 loaves, buns and cookies
31.03.2023
21 volunteers
735 servings of hot food
1360 loaves, buns and cookies
29-30.03.2023
16 volunteers
670 servings of hot food
1250 loaves of bread
24-25.03.2023
20 volunteers
1010 servings of hot food
1160 loaves and cookies
24-25.03.2023
20 volunteers
780 servings of hot food
1420 loaves, buns and cookies
22-23.03.2023
14 volunteers
670 servings of hot food
1130 loaves of bread
20-21.03.2023
22 volunteers
1005 servings of hot food
1160 loaves and cookies
17-18.03.2023
21 volunteers
800 servings of hot food
1240 loaves and cookies
15-16.03.2023
15 volunteers
670 servings of hot food
600 loaves of bread
13-14.03.2023
22 volunteers
1055 servings of hot food
1130 loaves and cookies
10-11.03.2023
22 volunteers
795 servings of hot food
760 loaves of bread
08-09.03.2023
15 volunteers
675 servings of hot food
720 loaves of bread
06-07.03.2023
22 volunteers
1060 servings of hot food
1330 loaves and cookies
03-04.03.2023
22 volunteers
740 servings of hot food
1650 loaves, buns and cookies
01-02.03.2023
15 volunteers
675 servings of hot food
720 loaves of bread
27-28.02.2023
23 volunteers
1120 servings of hot food
1520 loaves, buns and cookies
24-25.02.2023
23 volunteers
738 servings of hot food
1000 loaves, pies, buns and cookies
22-23.02.2023
21 volunteers
675 servings of hot food
600 loaves of bread
20-21.02.2023
21 volunteers
1120 servings of hot food
970 loaves and cookies
17-18.02.2023
22 volunteers
785 servings of hot food
1168 loaves, buns and cookies
15-16.02.2023
15 volunteers
670 servings of hot food
360 loaves and cookies
13-14.02.2023
19 volunteers
920 servings of hot food
1070 loaves and cookies
10-11.02.2023
15 volunteers
383 servings of hot food
420 loaves, buns and cookies
08-09.02.2023
15 volunteers
695 servings of hot food
840 loaves of bread
06-07.02.2023
23 volunteers
1030 servings of hot food
1740 loaves, buns and cookies
03-04.02.2023
22 volunteers
783 servings of hot food
1500 loaves, buns and cookies
01-02.02.2023
16 volunteers
675 servings of hot food
420 loaves of bread
30-31.01.2023
24 volunteers
1018 servings of hot food
1840 loaves, buns and cookies
27-28.01.2023
24 volunteers
790 servings of hot food
1620 loaves, buns and cookies
25-26.01.2023
12 volunteers
695 servings of hot food
23-24.01.2023
16 volunteers
730 servings of hot food
840 loaves of bread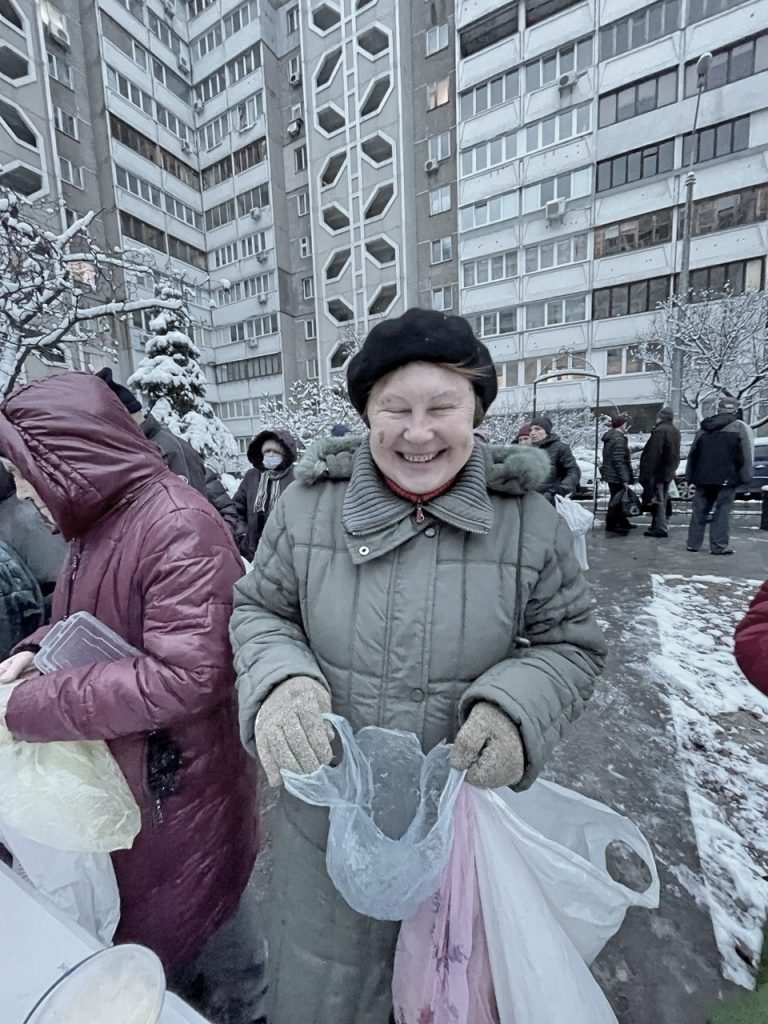 20-21.01.2023
22 volunteers
790 servings of hot food
1350 loaves, buns and cookies
19.01.2023
12 volunteers
338 servings of hot food
16-17.01.2023
22 volunteers
1118 servings of hot food
1770 loaves, buns and cookies
11-13.01.2023
22 volunteers
1490 servings of hot food
1890 oranges, breads, buns and cookies
09-10.01.2023
23 volunteers
1020 servings of hot food
1690 loaves, buns and cookies
03-06.01.2023
24 volunteers
1758 servings of hot food
1690 breads, buns and cookies
28-30.12.2022
23 volunteers
1400 servings of hot food
880 loaves of bread
26-27.12.2022
23 volunteers
1838 servings of hot food
840 loaves of bread
21-23.12.2022
19 volunteers
1260 servings of hot food
1670 buns, loaves and cookies
19-20.12.2022
20 volunteers
960 servings of hot food
1,960 buns, loaves and cookies
15-16.12.2022
19 volunteers
925 servings of hot food
1790 buns, loaves and cookies
13-14.12.2022
14 volunteers
675 servings of hot food
640 loaves of bread
12.12.2022
20 volunteers
735 servings of hot food
1433 buns, loaves and cookies
08-09.12.2022
20 volunteers
1045 servings of hot food
1270 buns, loaves and cookies
07.12.2022
14 volunteers
410 servings of hot food
380 breads
05-06.12.2022
20 volunteers
1015 servings of hot food
1305 buns, loaves and cookies
02.12.2022
20 volunteers
695 servings of hot food
980 buns, loaves and cookies
01.12.2022
13 volunteers
335 servings of hot food
320 breads
28-29.11.2022
22 volunteers
1030 servings of hot food
1595 pies, breads and cookies
25.11.2022
22 volunteers
695 servings of hot food
935 breads
23.11.2022
14 volunteers
360 servings of hot food
320 breads
22.11.2022
22 volunteers
695 servings of hot food
320 breads
21.11.2022
22 volunteers
695 servings of hot food
1424 pies, breads and cookies
18.11.2022
22 volunteers
695 servings of hot food
744 pies, breads and cookies
17.11.2022
23 volunteers
463 servings of hot food
65 pies
16.11.2022
14 volunteers
385 servings of hot food
15.11.2022
13 volunteers
335 servings of hot food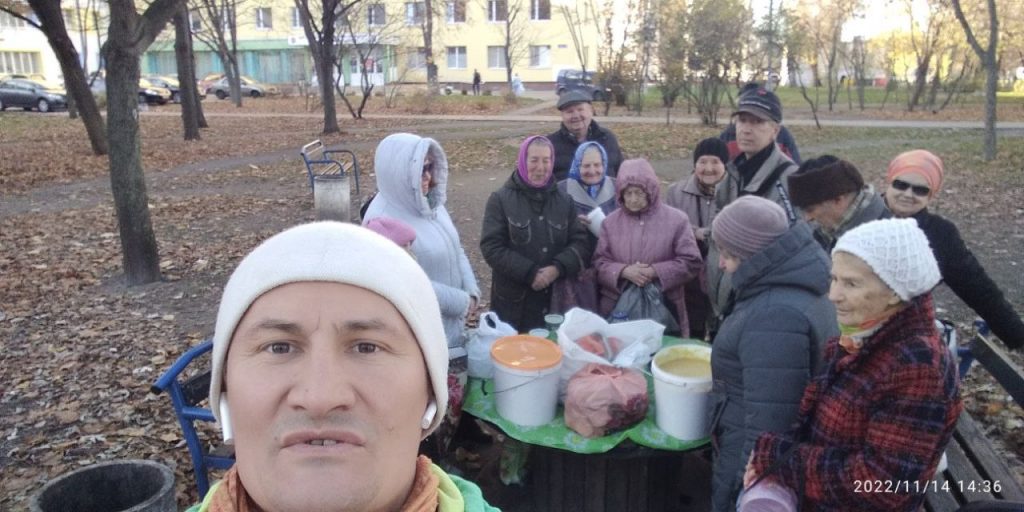 14.11.2022
23 volunteers
695 servings of hot food
1314 pies, breads and cookies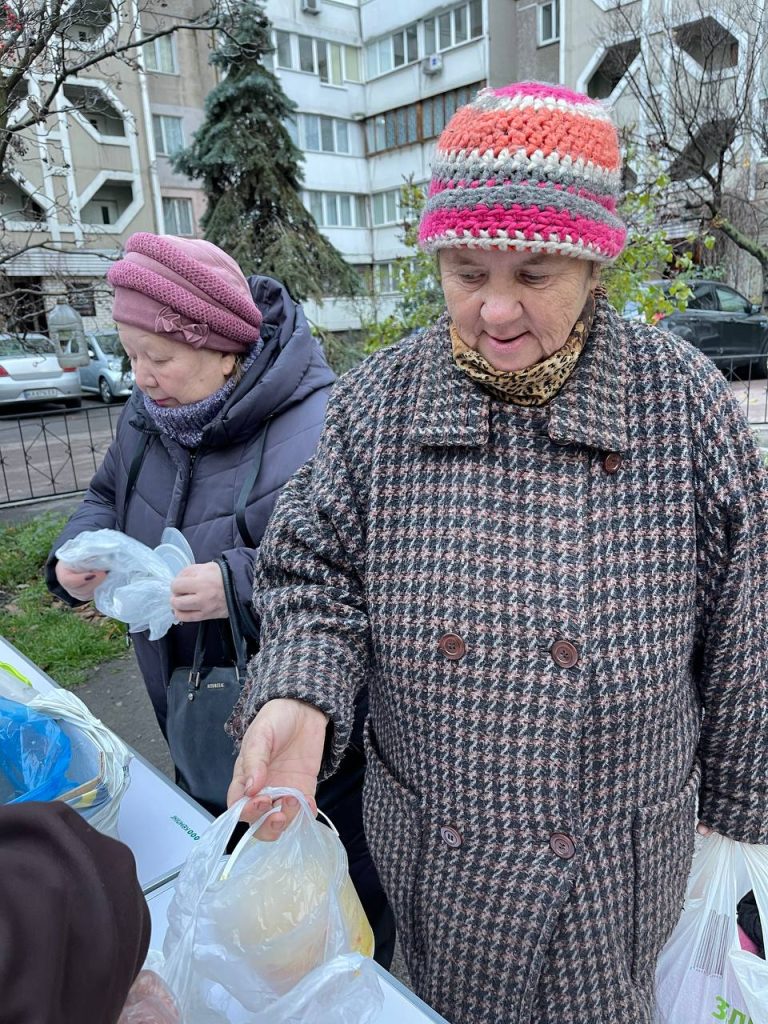 11.11.2022
22 volunteers
695 servings of hot food
1064 pies, breads and cookies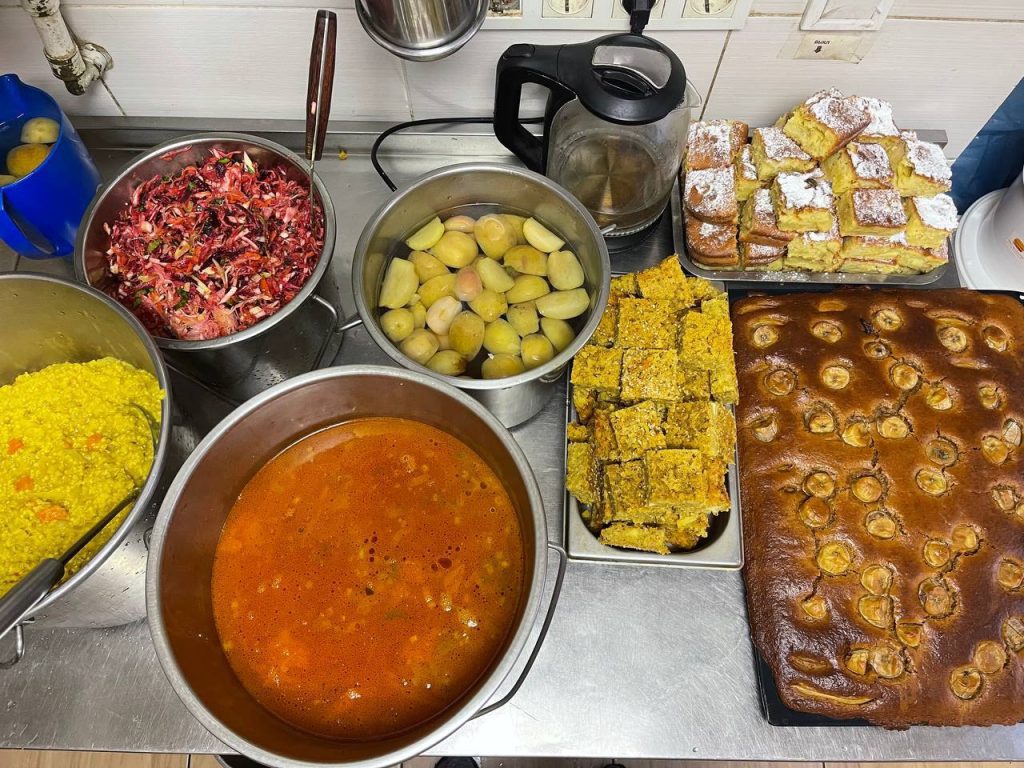 10.11.2022
23 volunteers
400 servings of hot food
60 pies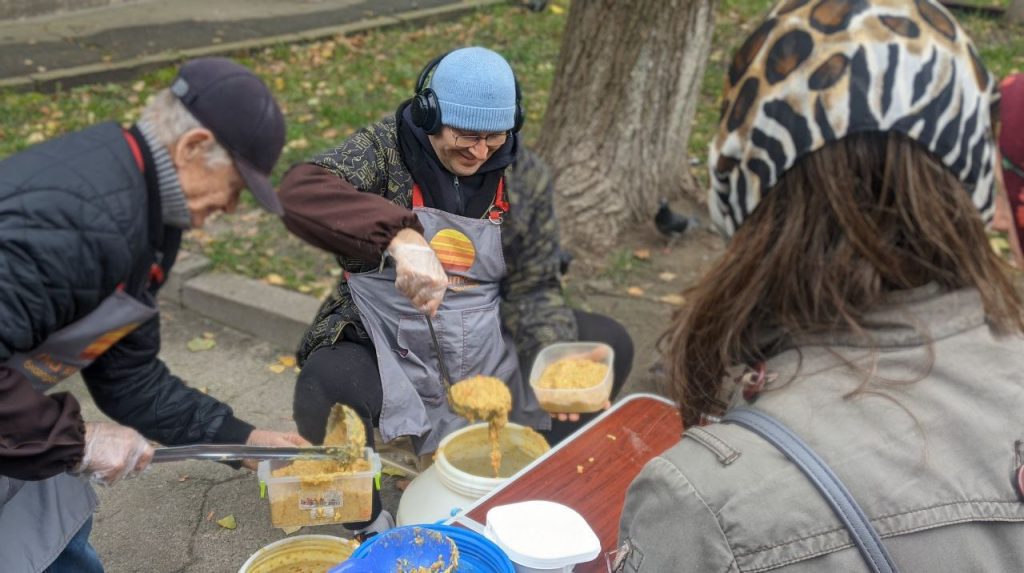 09.11.2022
14 volunteers
405 servings of hot food
08.11.2022
13 volunteers
345 servings of hot food
07.11.2022
22 volunteers
710 servings of hot food
1024 pies, breads and cookies
04.11.2022
22 volunteers
710 servings of hot food
644 pies and cookies
03.11.2022
23 volunteers
483 servings of hot food
50 pies
02.11.2022
18 volunteers
580 servings of hot food
01.11.2022
23 volunteers
995 servings of hot food
644 pies, buns and cookies
21.10.2022
26 volunteers
735 servings of hot food
300 pies and cookies
20.10.2022
28 volunteers
658 servings of hot food
375 pies and loaves of bread
19.10.2022
19 volunteers
580 servings of hot meals
18.10.2022
17 volunteers
520 servings of hot meals
440 loaves of bread
17.10.2022
28 volunteers
885 servings of hot meals
1194 breads and cookies
14.10.2022
23 volunteers
885 servings of hot meals
660 rolls and cookies
13.10.2022
27 volunteers
660 servings of hot meals
50 pies
12.10.2022
18 volunteers
590 servings of hot meals
11.10.2022
20 volunteers
670 servings of hot meals
700 buns and loaves of bread
07.10.2022
26 volunteers
885 servings of hot meals
684 buns, pies and cookies
06.10.2022
26 volunteers
680 servings of hot meals
595 pies and loaves
05.10.2022
18 volunteers
605 servings of hot meals
04.10.2022
16 volunteers
520 servings of hot meals
440 breads
03.10.2022
31 volunteer
885 servings of hot meals
564 pies and cookies
30.09.2022
27 volunteers
885 servings of hot meals
958 buns, pies and cookies
29.09.2022
21 volunteer
570 servings of hot meals
28.09.2022
18 volunteers
580 servings of hot meals
500 breads
27.09.2022
17 volunteers
520 servings of hot meals
26.09.2022
27 volunteers
860 servings of hot meals
1474 breads, buns, pies and cookies
23.09.2022
30 volunteers
860 servings of hot meals
694 buns, pies and cookies
22.09.2022
23 volunteers
670 servings of hot meals
420 breads and pies
21.09.2022
20 volunteers
530 servings of hot meals
20.09.2022
20 volunteers
495 servings of hot meals
420 breads
19.09.2022
37 volunteers
860 servings of hot meals
1140 buns, pies and cookies
16.09.2022
32 volunteers
848 servings of hot meals
1080 buns, pies and cookies
15.09.2022
25 volunteers
608 servings of hot meals
40 pies
14.09.2022
18 volunteers
555 servings of hot meals
420 breads
13.09.2022
16 volunteers
513 servings of hot meals
420 breads
12.09.2022
20 volunteers
560 servings of hot meals
480 breads
09.09.2022
28 volunteers
835 servings of hot meals
708 buns, pies and cookies
08.09.2022
27 volunteers
595 servings of hot meals
30 pies
07.09.2022
16 volunteers
555 servings of hot meals
06.09.2022
14 volunteers
508 servings of hot meals
05.09.2022
26 volunteers
828 servings of hot meals
585 buns, pies and cookies
02.09.2022
28 volunteers
810 servings of hot meals
585 buns, pies and cookies
01.09.2022
18 volunteers
495 servings of hot meals
220 breads
31.08.2022
18 volunteers
555 servings of hot meals
340 breads
30.08.2022
14 volunteers
418 servings of hot meals
320 breads
29.08.2022
22 volunteers
638 servings of hot meals
620 buns, pies and cookies
26.08.2022
27 volunteers
758 servings of hot meals
870 buns, pies and cookies
25.08.2022
10 volunteers
310 servings of hot meals
23.08.2022
10 volunteers
260 servings of hot meals
260 breads
22.08.2022
22 volunteers
633 servings of hot meals
830 breads, cookies and pies
19.08.2022
28 volunteers
748 servings of hot meals
840 buns, pies and cookies
18.08.2022
17 volunteers
485 servings of hot meals
480 breads
17.08.2022
17 volunteers
525 servings of hot meals
480 breads
16.08.2022
23 volunteers
673 servings of hot meals
1404 buns, pies, cookies, kachoris and breads
15.08.2022
17 volunteers
508 servings of hot meals
480 breads
12.08.2022
24 volunteers
758 servings of hot meals
870 buns, pies and breads
11.08.2022
17 volunteers
485 servings of hot meals
480 breads
10.08.2022
19 volunteers
508 servings of hot meals
09.08.2022
15 volunteers
448 servings of hot meals
420 breads
08.08.2022
27 volunteers
758 servings of hot meals
1010 buns, pies, cookies and breads
05.08.2022
28 volunteers
733 servings of hot meals
1220 buns, pies, cookies and breads
04.08.2022
16 volunteers
485 servings of hot meals
480 breads
03.08.2022
17 volunteers
508 servings of hot meals
500 breads
02.08.2022
15 volunteers
448 servings of hot meals
440 breads
01.08.2022
26 volunteers
758 servings of hot meals
440 buns, pies and cookies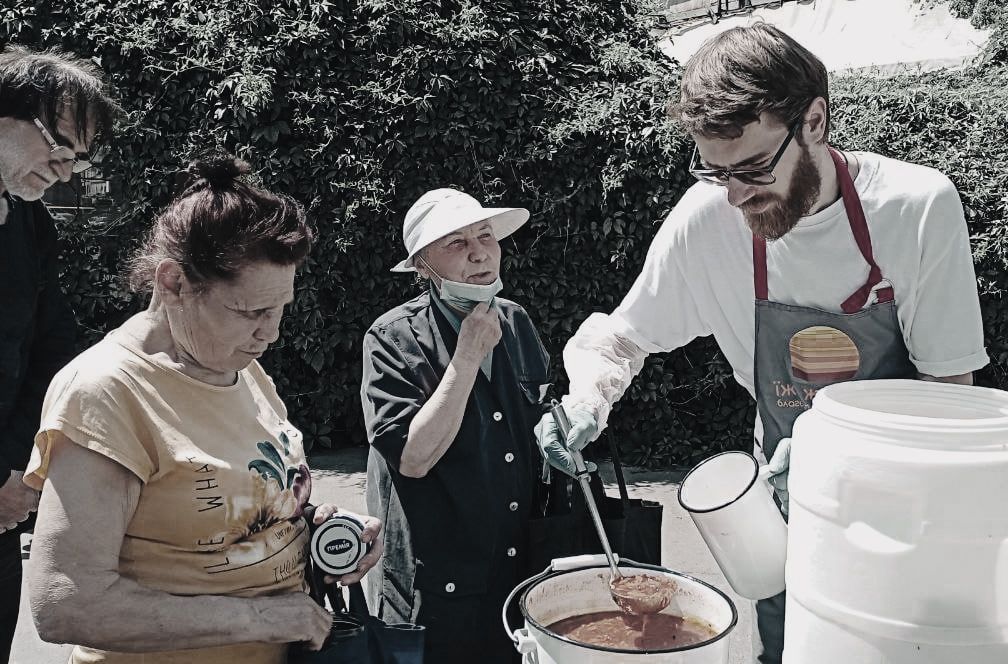 29.07.2022
33 volunteers
733 servings of hot meals
1060 buns, pies, cookies and breads
28.07.2022
18 volunteers
485 servings of hot meals
480 breads
27.07.2022
20 volunteers
508 servings of hot meals
500 breads
26.07.2022
16 volunteers
448 servings of hot meals
420 breads
25.07.2022
30 volunteers
728 servings of hot meals
1058 buns, pies, cookies and breads
22.07.2022
26 volunteers
733 servings of hot meals
1190 buns, cookies and breads
21.07.2022
18 volunteers
473 servings of hot meals
480 breads
20.07.2022
16 volunteers
508 servings of hot meals
500 breads and pies
19.07.2022
17 volunteers
448 servings of hot meals
516 breads and pies
18.07.2022
24 volunteers
758 servings of hot meals
1490 buns, cookies and breads
15.07.2022
37 volunteers
864 servings of hot meals
970 buns, cookies and breads
14.07.2022
26 volunteers
593 servings of hot meals
550 pancakes and breads
13.07.2022
33 volunteers
611 servings of hot meals
565 breads and pies
12.07.2022
27 volunteers
581 servings of hot meals
516 breads and pies
11.07.2022
41 volunteers
868 servings of hot meals
1180 breads and pies
09.07.2022
7 volunteers
113 servings of hot meals
70 bread, cookies and pies
08.07.2022
40 volunteers
916 servings of hot meals
1095 bread, cookies and pies
07.07.2022
26 volunteers
571 servings of hot meals
470 bread, cookies and pies
06.07.2022
31 volunteers
630 servings of hot meals
610 bread, cookies and pies
05.07.2022
22 volunteers
575 servings of hot meals
490 bread, cookies and pies
04.07.2022
35 volunteers
990 servings of hot meals
1110 bread, cookies and pies
02.07.2022
7 volunteers
108 servings of hot meals
60 bread, cookies and pies
01.07.2022
38 volunteers
766 servings of hot meals
968 bread, cookies and pies
30.06.2022
24 volunteers
563 servings of hot meals
480 bread, cookies and pies
29.06.2022
30 volunteers
698 servings of hot meals
600 bread, cookies and pies
28.06.2022
23 volunteers
558 servings of hot meals
586 bread, cookies and pies
27.06.2022
43 volunteers
936 servings of hot meals
1150 bread, cookies and pies
25.06.2022
7 volunteers
113 servings of hot meals
79 bread, cookies and pies
24.06.2022
40 volunteers
1034 servings of hot meals
1534 bread, cookies and pies
23.06.2022
25 volunteers
563 servings of hot meals
516 bread, cookies and pies
22.06.2022
37 volunteers
756 servings of hot meals
778 bread, cookies and pies
21.06.2022
23 volunteers
563 servings of hot meals
504 bread, cookies and pies
20.06.2022
37 volunteers
996 servings of hot meals
1180 bread, cookies and pies
19.06.2022
5 volunteers
185 servings of hot meals
50 bread, cookies and pies
18.06.2022
6 volunteers
180 servings of hot meals
160 bread, cookies and pies
17.06.2022
30 volunteers
776 servings of hot meals
870 bread, cookies and pies
16.06.2022
25 volunteers
635 servings of hot meals
718 bread, cookies and pies
15.06.2022
31 volunteers
693 servings of hot meals
277 bread, cookies and pies
14.06.2022
22 volunteers
633 servings of hot meals
604 bread, cookies and pies
13.06.2022
39 volunteers
984 servings of hot meals
1010 bread, cookies and pies
11.06.2022
7 volunteers
160 servings of hot meals
110 bread, cookies and pies
10.06.2022
36 volunteers
934 servings of hot meals
1127 bread, cookies and pies
09.06.2022
35 volunteers
671 servings of hot meals
625 bread, cookies and pies
08.06.2022
24 volunteers
660 servings of hot meals
527 bread, cookies and pies
07.06.2022
24 volunteers
604 servings of hot meals
492 bread, cookies and pies
06.06.2022
36 volunteers
901 servings of hot meals
859 bread, cookies and pies
05.06.2022
12 volunteers
210 servings of hot meals
120 bread, cookies and pies
04.06.2022
20 volunteers
452 servings of hot meals
398 bread, cookies and pies