Every day in Kherson we distribute about 500 portions of hot vegetarian food. Everyone can become a volunteer and help us prepare food or distribute it in their city.
There are three ways you can also take part in our mission:
by becoming a volunteer
donating any amount of money to buy groceries
pay the delivery of our hot meals to our distribution points
Please contact us : info@foodforlife.org.ua
Read the reports below.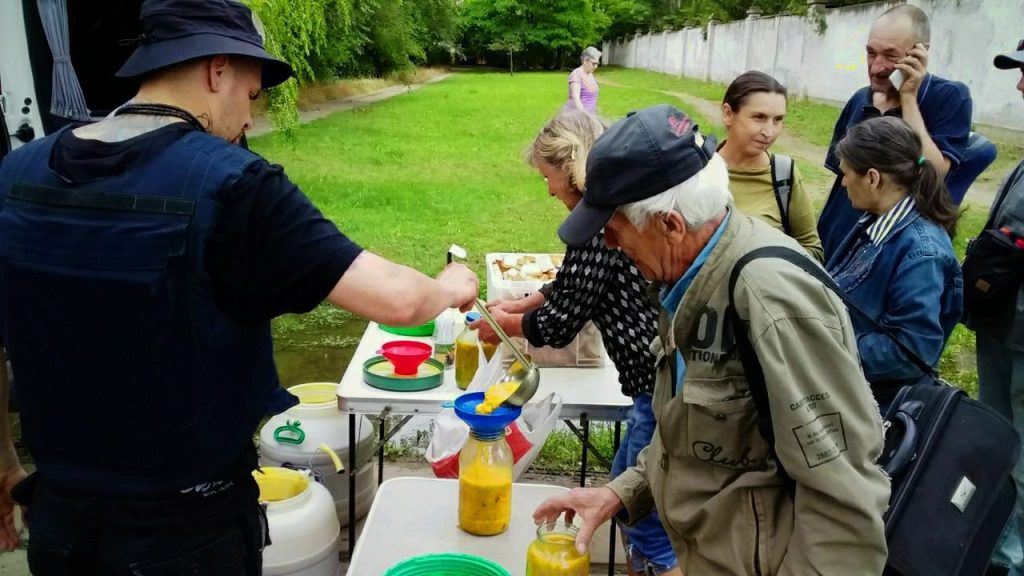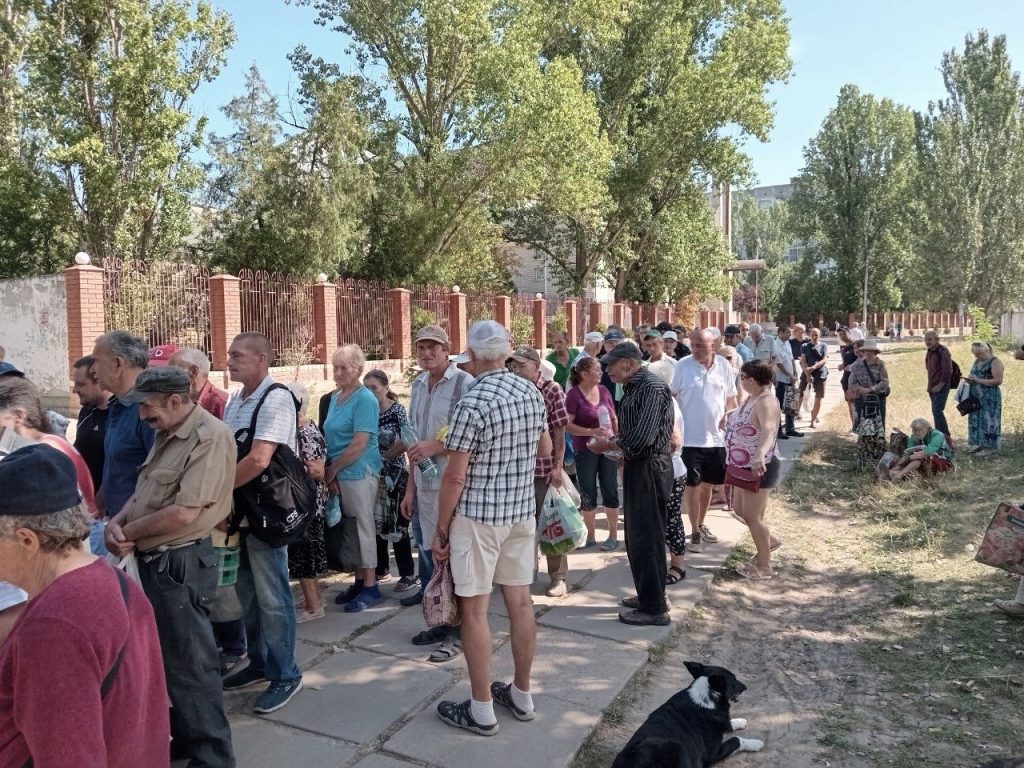 01.07.2023
5 distribution points
9 volunteers
295 liters of khichdi, buns
70 liters of beverage
29.06.2023
6 distribution points
8 volunteers
230 liters of wheat porridge with vegetables
27.06.2023
7 distribution points
8 volunteers
255 liters of borsch
24.06.2023
3 distribution points
12 volunteers
230 liters of khichdi
buns, halwa, beverage
22.06.2023
6 distribution points
8 volunteers
245 liters of soup
20.06.2023
4 distribution points
6 volunteers
255 liters of milk oatmeal with raisins
17.06.2023
7 volunteers
320 liters of borsch
buns
15.06.2023
6 volunteers
263 liters of soup
13.06.2023
5 volunteers
220 liters of khichdi
300 buns
several liters of ayran
08.06.2023
7 volunteers
320 liters of soup
06.06.2023
7 volunteers
320 liters of soup
03.06.2023
7 volunteers
320 liters of khichdi
01.06.2023
7 volunteers
330 liters of soup
30.05.2023
10 volunteers
330 liters of khichdi
distribution in Kherson and v. Sadove
27.05.2023
9 volunteers
385 liters of borsch
distribution in Kherson and v. Sadove
25.05.2023
8 volunteers
310 liters of soup
distribution in Kherson and v. Sadove
23.05.2023
7 volunteers
270 liters of khichdi
distribution in Kherson and v. Sadove
20.05.2023
9 volunteers
326 liters of borsch
distribution in Kherson and v. Sadove
18.05.2023
6 volunteers
326 liters of milk oatmeal with raisins
distribution in Kherson and v. Sadove
16.05.2023
8 volunteers
290 liters of soup
13.05.2023
9 volunteers
320 liters of borsch
distribution in Kherson and v. Sadove
11.05.2023
9 volunteers
295 liters of khichdi
distribution in Kherson and v. Sadove
09.05.2023
8 volunteers
308 liters of porridge with vegetables
04.05.2023
9 volunteers
290 liters of khichdi
distribution in Kherson and v. Sadove
02.05.2023
10 volunteers
327 liters of soup
29.04.2023
11 volunteers
288 liters of borsch
buns

Out-of-town distribution in the city of Beryslav:
40 liters of borsch
27.04.2023
9 volunteers
260 liters of soup

Out-of-town distribution in the city of Beryslav:
60 liters of soup
25.04.2023
11 volunteers
310 liters of khichdi
22.04.2023
8 volunteers
320 liters of borsch
20.04.2023
8 volunteers
245 liters of khichdi
18.04.2023
6 volunteers
280 liters of wheat porridge with vegetables
15.04.2023
8 volunteers
323 liters of borsch
13.04.2023
8 volunteers
300 liters of soup
11.04.2023
8 volunteers
248 liters of khichdi
08.04.2023
9 volunteers
347 liters of borsch
buns
06.04.2023
9 volunteers
320 liters of barley porridge with vegetables
04.04.2023
8 volunteers
260 liters of khichdi
01.04.2023
10 volunteers
286 liters of borsch
buns
30.03.2023
9 volunteers
235 liters of soup
100 l of halwa
28.03.2023
10 volunteers
250 liters of khichdi
25.03.2023
10 volunteers
330 liters of borsch
buns
23.03.2023
12 volunteers
220 liters of pilaf
21.03.2023
8 volunteers
250 liters of khichdi
18.03.2023
9 volunteers
210 liters of borsch
buns
16.03.2023
9 volunteers
255 liters of porridge with vegetables
14.03.2023
10 volunteers
215 liters of khichdi
11.03.2023
9 volunteers
250 liters of borsch
130 buns
09.03.2023
8 volunteers
230 liters of soup
07.03.2023
10 volunteers
290 liters of khichdi
04.03.2023
13 volunteers
220 liters of borsch
02.03.2023
12 volunteers
330 liters of wheat-barley porridge with vegetables
21.02.2023
9 volunteers
290 liters of khichdi
15 l of halwa
20 l of beverage
18.02.2023
9 volunteers
310 liters of borsch
16.02.2023
8 volunteers
270 liters of soup
14.02.2023
7 volunteers
300 liters of khichdi
11.02.2023
10 volunteers
285 liters of borsch
09.02.2023
8 volunteers
285 liters of soup
07.02.2023
8 volunteers
270 liters of khichdi
04.02.2023
8 volunteers
290 liters of borsch
02.02.2023
6 volunteers
270 liters of soup
31.01.2023
5 volunteers
210 liters of khichdi
28.01.2023
9 volunteers
211 liters of borsch
26.01.2023
6 volunteers
200 liters of wheat porridge with vegetables
24.01.2023
5 volunteers
210 liters of soup

Out-of-town distribution in the city of Beryslav:
2 volunteers
40 liters of soup
humanitarian help: clothes, shoes, food, hygiene products
21.01.2023
9 volunteers
206 liters of borsch
buns
19.01.2023
7 volunteers
154 liters of soup
17.01.2023
8 volunteers
180 liters of khichdi
14.01.2023
8 volunteers
165 liters of borsch
153 buns
12.01.2023
7 volunteers
150 liters of soup
10.01.2023
7 volunteers
155 liters of kichri
07.01.2023
9 volunteers
150 liters of borsch
05.01.2023
7 volunteers
100 liters of wheat porridge with vegetables
03.01.2023
7 volunteers
100 liters of kichri
30 liters of drink
31.12.2022
7 volunteers
150 liters of soup
40 liters of nectar halwa
29.12.2022
9 volunteers
135 liters of porridge with vegetables
27.12.2022
7 volunteers
165 liters of kichri
24.12.2022
8 volunteers
195 liters of brine (500 servings)
152 buns
125 sweet balls
22.12.2022
5 volunteers
130 liters of barley porridge with vegetables (500 servings)
20.12.2022
7 volunteers
140 liters of kichri (500 portions)
17.12.2022
9 volunteers
140 liters of soup (500 servings)
140 buns
15.12.2022
7 volunteers
130 liters of wheat porridge with vegetables (500 servings)
13.12.2022
9 volunteers
140 liters of wheat porridge with vegetables (500 servings)
10.12.2022
9 volunteers
140 liters of wheat porridge with vegetables (500 servings)
08.12.2022
8 volunteers
7 distribution points
170 liters of borsch (500 portions)
06.12.2022
3 volunteers
140 liters of kichri (500 portions)
03.12.2022
11 volunteers
345 liters of borscht (180 portions);
140 buns;
128 sweet balls;
21 liters of drink
26.11.2022
7 volunteers
37 liters of wheat porridge with vegetables (147 portions);
144 buns;
158 sweet balls;
22 liters of drink
22.11.2022
10 volunteers
kichri – 40 liters;
bread;
drink – 25 liters;
freebie – 20 kg;
19.11.2022
10 volunteers
1 distribution point
40 liters of khichri (160 portions);
147 buns;
151 sweet balls;
20 liters of drink
12.11.2022
10 volunteers
1 distribution point
40 liters of buckwheat with vegetables (160 servings);
bread;
163 sweet balls;
20 liters of drink
05.11.2022
11 volunteers
1 distribution point
39 liters of kichri (156 portions);
143 buns;
113 sweet balls;
21 liters of drink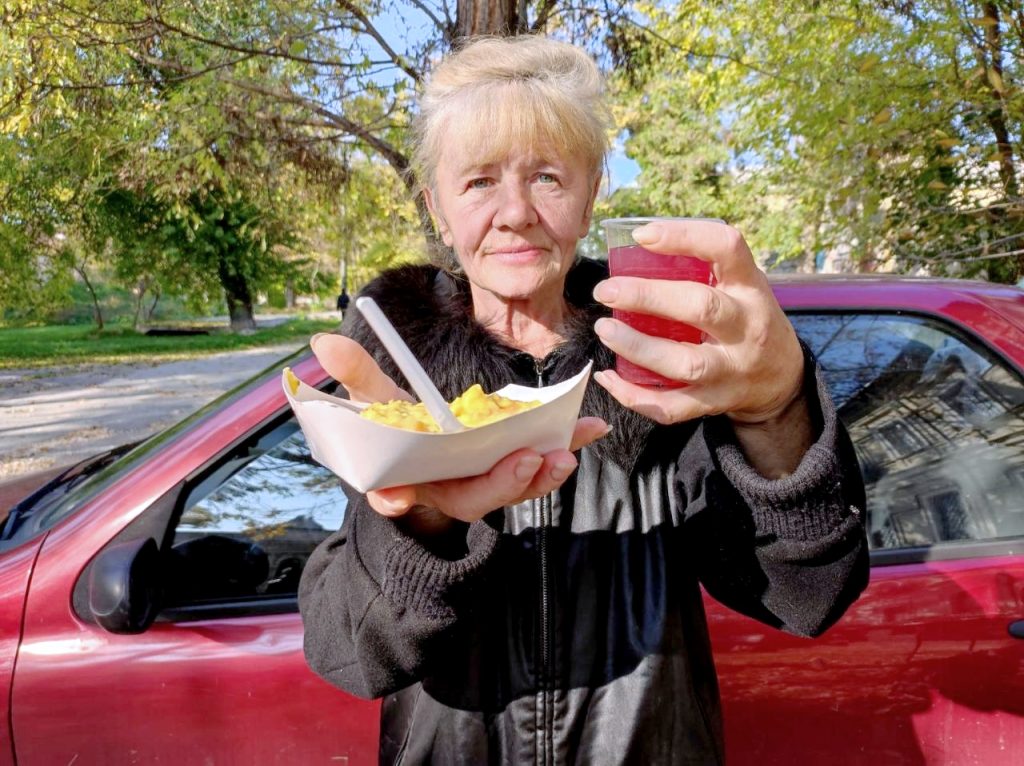 29.10.2022
10 volunteers
1 distribution point
37 liters of wheat porridge with vegetables (148 servings);
148 buns;
150 sweet balls;
20 liters of drink
22.10.2022
12 volunteers
1 distribution point
40 liters of borscht (160 portions);
146 buns;
151 sweet balls;
20 liters of drink
15.10.2022
10 volunteers
1 distribution point
40 liters of borscht (160 portions);
148 buns;
156 sweet balls;
19.5 liters of drink
08.10.2022
11 volunteers
1 distribution point
40 liters of buckwheat with vegetables (160 servings);
143 buns;
147 sweet balls;
21 liters of drink
01.10.2022
11 volunteers
1 distribution point
40 liters of kichri (160 portions);
147 buns;
146 sweet balls;
21.5 liters of drink
24.09.2022
8 volunteers
1 distribution point
38 liters of pilaf (152 portions);
145 buns;
151 sweet balls;
20 liters of drink
17.09.2022
10 volunteers
1 distribution point
40 liters of kichri (160 portions);
146 buns;
151 sweet balls;
20 liters of drink
10.09.2022
10 volunteers
1 distribution point
40 liters of kichri (160 portions);
137 buns;
145 sweet balls;
21 liters of drink
03.09.2022
10 volunteers
1 distribution point
37 liters of wheat porridge with vegetables (148 servings);
128 buns;
155 sweet balls;
21 liters of drink
27.08.2022
10 volunteers
1 distribution point
33 liters of pilaf (132 servings)
141 buns
145 sweet balls
22 liters of drink
20.08.2022
11 volunteers
1 distribution point
37 liters of buckwheat porridge with vegetables (148 servings)
142 buns
150 sweet balls
19 liters of drink
13.08.2022
10 volunteers
1 distribution point
25 liters of millet porridge with vegetables (100 servings)
142 buns
145 sweet balls
20 liters of drink
06.08.2022
10 volunteers
1 distribution point
136 servings of borscht
135 buns
130 sweet balls
20 liters of drink
30.07.2022
10 volunteers
1 distribution point
108 servings of buckwheat with vegetables
127 buns
146 sweet balls
20 liters of drink
23.07.2022
10 volunteers
1 distribution point
108 servings of pilaf
134 buns
132 sweet balls
19.5 liters of drink
16.07.2022
11 volunteers
1 distribution point
108 servings of borscht
136 buns
105 sweet balls
22 liters of drink
09.07.2022
11 volunteers
1 distribution point
92 servings of buckwheat with vegetables
135 buns
113 sweet balls
15 liters of drink
02.07.2022
11 volunteers
1 distribution point
100 servings of kichri
134 buns
128 sweet balls
15 liters of drink
25.06.2022
10 volunteers
1 distribution point
112 servings of borscht
30 pieces of bread
91 buns
145 sweet balls
10 liters of drink
18.06.2022
10 volunteers
1 distribution point
100 servings of kichri
90 buns
120 sweet balls
15 liters of drink
11.06.2022
8 volunteers
1 distribution point
110 servings of sabja with paneer
30 pieces of bread
100 buns
100 sweet balls
15 liters of drink
06.06.2022
4 volunteers
1 distribution point
80 servings of soup
80 servings of porridge
80 pieces of bread
8 liters of drink
03.06.2022
4 volunteers
1 distribution point
70 servings of soup
80 pieces of bread
8 liters of compote
31.05.2022
3 volunteers
1 distribution point
60 servings of soup
60 pieces of bread
60 servings of salad
60 portions of halava
40 sweet balls
9 liters of compote